Excellent podcast by Greek-American supporters of Golden Dawn regarding the arrests of the leaders.
xaameriki - ΧΡΥΣΗ ΑΥΓΗ xrysh aygh GOLDEN DAWN news in english
Episode 10- Prisons Can't Hold Ideals
http://xaamerica.podomatic.com/entry/2013-09-29T02_17_11-07_00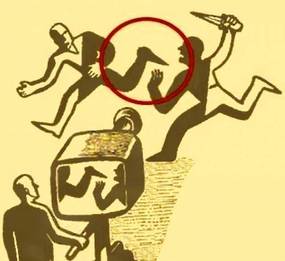 Silencing of ideals that cannot be contained – In the name of "democracy", the Memorandum has arrested Golden Dawn parliament members under phoney charges. In depth analysis from George and Ed shed light on this blatant violation of the Greek constitution and slap in the face against the Greek people by real criminals.
Smoke and Mirrors While Constitutional Arc Passes 3rd Memorandum– Troika economic reforms that will repeal Greece's last few labor laws are being voted on while the Greek government uses recent events as a distraction.
Greece's Leading Expert On Criminal Law Condemns New Actions -A Left-leaning legal expert speaks out against Greek government's actions against Golden Dawn, and the dangerous legal precedents it sets. Virtually all political parties could be prosecuted based on the flimsy case they are building.
The Violent Hypocrisy Of The Zionist Hydra Trumps The Voice Of…
View original post 283 more words